Summary
Boab Metals Sorby Hills Joint Venture project hosts extensive lead and silver resources, key metals for a low-carbon future.
Lead price surged around 9% on London Metals Exchange in less than two weeks.
The lead market is projected to expand significantly in the next couple of years, backed by the diverse applications of lead.
Boab Metals Limited (ASX: BML) has expedited its exploration undertakings as markets start to appreciate the increasing role played by lead in new world technologies. Significantly, lead is the major driver of value at BML's 75%-owned Sorby Hills deposit. Furthermore, the Western Australia-based Sorby Hills also hosts significant silver and zinc resources.
Image Source: © Maxxyustas | Megapixl.com
Lead is the proven battery metal and is the primary component of the 12V batteries found in traditional and electric vehicles. Experts predict positive demand trends for energy storage to support the rising volume of renewable energy generation capacity. The fact that lead is and will remain a critical raw material in the battery industry is beginning to attract the interest of commodity investors.
In less than two weeks, lead prices have rallied by 9% increase on the London Metals exchange, with lead trading at US$2,319.5 per tonne on 30 June 2021.
ALSO READ: What's fuelling Boab Metals' (ASX:BML) eye-catching share price rally?
The potential for new, advanced lead-based battery technologies is enormous. Boab Metals and the Sorby Hills Project are perfectly poised to cash in on these exciting opportunities.
An overview of expanding scope for lead
Many countries have set ambitious goals to reverse climate change and reduce carbon emissions by 2050. Achieving low carbon mobility through electric vehicles and non-renewable energy sources has become the significant pathway to achieve such green global initiatives.
Significantly, Lead Acid Batteries being a mature and commoditised technology, are considered a cheap and reliable 12 V power source for StopStart, SLI (Starting, Lighting, and Ignition), safety and auxiliary functions in all types of vehicles.
ALSO READ: Boab Metals (ASX:BML) in high spirits after Mineral Resource update of Sorby Hills

Boab Metals holds the right resource at the right time
The green transition coupled with traditional applications is projected to expand the lead-acid battery market by 20% over the next decade. As per the Company holding strategic lead inventories at the right time in the commodity cycle is likely to generate meaningful value for its shareholders.
ALSO READ: Sorby Hills project places Boab Metals at vantage point amid rising demand for lead and silver
Boab's Sorby Hills Project is in Australia's largest undeveloped, near-surface Pb-Ag-Zn deposit, held in 75%/25% joint venture partnership with Henan Yuguang Gold and Lead Co., Ltd, China's largest lead smelter and silver producer.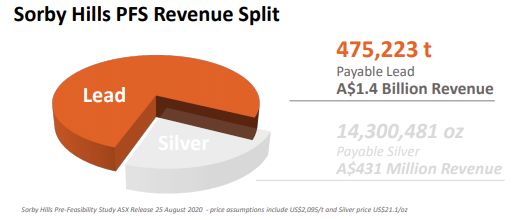 Source: BML ASX update, dated 16 June 2021
The project boasts granted pre-native title mining tenements and EPA (Environmental Protection Agency) approved open pit mine and infrastructure. Furthermore, the Sorby Hills value proposition is further strengthened by its proximity to existing infrastructure and opportunity to access hydro grid power.
Sorby Hills development creating a sustainable growth pathway
Boab Metals is making all the right moves to capitalise on the looming wave of demand in the automotive and renewable energy sectors. From expanding the mining inventory to unveiling the regional exploration potential in joint partnership with Yuguang, the Company's initiatives served to boost potential mine life and the proposed processing capacity at Sorby Hills.
ALSO READ: Boab Metals (ASX: BML) on fast track to monetise High-Grade Sorby Hills Project
In tandem with the on-field developments, the Company also engaged with Australian Government financing agencies. It also held preliminary soundings with Tier-1 off-takers for the Sorby Hills concentrate to facilitate the project's economic viability.
ALSO READ: Boab Metals' (ASX: BML) Action-Packed March Quarter Sets Stage for Sorby Hills Project Success
Source: Copyright © 2021 Kalkine Media Pty Ltd, Data Source: BML ASX update, dated 16 June 2021
With one of the world's largest undeveloped lead projects and an inevitable revolution underway for green technologies acting as major catalyst for global lead demand, Australian developer Boab Metals finds itself in an enviable market position. The Company is working to ensure that it cements a strong position as a battery commodity supplier in the growing energy storage market. 
BML shares traded at A$0.430, up by 1.2% from the previous close on 2   July 2021 (at 10:48 AM AEST)