Summary
Boab Metals' flagship Sorby Hills project hosts huge lead and silver resources.
Producers of lead and silver are witnessing significant growth potential as these metals are extensively used in EVs and solar panels.
Boab Metals is progressing its Phase V drilling program to target the high impact opportunities.
Australian explorer Boab Metals Limited (ASX: BML) is going from strength to strength on the back of its world-class Sorby Hills Lead-Silver Project, delivering metals for a sustainable future. Located in a Tier 1 mining jurisdiction of Western Australia, Sorby Hills is the country's largest undeveloped, near-surface Lead-Silver deposit.
The ecologically significant metals hosted by Boab's flagship project provides scope for the Company to cash in on the growing opportunities in the green market.
ALSO READ: Boab Metals' (ASX: BML) Action-Packed March Quarter Sets Stage for Sorby Hills Project Success
Lead, the proven battery metal, is a primary component of the 12V batteries found in traditional as well as electric vehicles. Sorby Hills' other key commodity, silver is the most conductive metal on earth, ideal for use in solar cells and the electronic components of electric vehicles.
Let us explore how the Company is aligning its strategic and operational activities to capitalise on the increasing demand landscape.
Growing Lead and Silver Potential Powered by the Green Shift
An overview of trends in the Lead market
The lead acid battery market is forecasted to grow by 70 gigawatt-hours over the next 10 years. Primary drivers of growth include continued use of 12V lead-acid batteries in the automotive industry (37 GWh), utility and renewable energy storage (18.5 GWh) and Telco back-up, UPS and motive applications (14.4 GWh).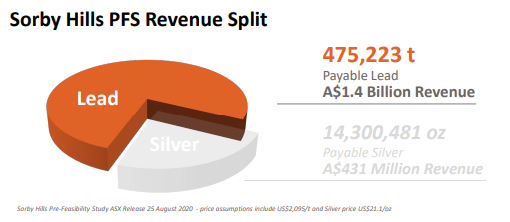 Source: BML Presentation, dated 16 June 2021
A Snapshot of Silver Market Trends
More than 55 million ounces of silver is used annually in the electric connections of all types of vehicles. Notably, up to 20 grams of silver is used by a typical solar panel for facilitating the efficient electricity flow and maximise energy output from the photovoltaic cell.
Boab's Operational developments painting a rosy outlook
Boab on track to further increase its Mineral Resource: The Company has demonstrated its ability to improve resource size and confidence with each drilling program, which previously have delivered exceptional results.
The > 4000m Phase V drilling program has commenced and will target the high impact opportunities as identified by the previous program along with the high-silver Alpha and Beta Resources, which are currently not incorporated in the Mine Plan.
READ MORE: Boab Metals (ASX:BML) kicks off High-Impact Drilling at Sorby Hills
The Sorby Hills PFS Mine Plan consists of 14.8Mt total ore at 4.7% Lead Equivalent, which will be treated by a 1.5Mtpa processing plant over 10 years.
Expanding the processing capacity and mine life for strong value
Boab is currently undertaking a DFS Metallurgical program, which along with Phase V drilling results would provide inputs for investigating the scope to increase mine life while expanding the Sorby Hills' proposed capacity.
Source: Copyright © 2021 Kalkine Media, Data Source: BML ASX update, dated 16 June 2021
ALSO READ: Boab Metals (ASX:BML) in high spirits after Mineral Resource update of Sorby Hills
Boab aims to beef up its commercial potential through strong synergy
Offtaker Discussions: The preliminary soundings for Sorby Hills Pb-Ag concentrate offtake were held with several potential local and offshore customers. A strong appetite has been confirmed for the Sorby Hills concentrate and offtakers have provided initial indicative proposals offering attractive terms, validating the high quality of the product.
ALSO READ: Boab Metals (ASX: BML) on fast track to monetise High-Grade Sorby Hills Project
Sorby Hills JV partnership
Boab has held very positive meetings with its Sorby Hills JV partner, Henan Yuguang Gold and Lead Co., Ltd, the dominant player in China's lead smelting and silver production market.
Yuguang has fully endorsed Boab's DFS program, reaffirmed their strong appetite for the Sorby Hills concentrates and confirmed their commitment to develop the Project.
READ MORE: Boab Metals (ASX: BML) and Yuguang take another step to expedite Sorby Hills project
Project financing
For the Sorby Hills Project' financing, Boab Metals is engaged with Australia Government financing agencies including NAIF (Northern Australian Infrastructure Facility), EFA (Export Finance Australia) and ECA (Australia's export credit agency). BurnVoir Corporate Finance are engaged to offer advice, analysis and arrangement of project financing solutions.
Source: BML Presentation, dated 16 June 2021
Given the growing relevance of lead and silver, the Company has finetuned its activities, taking advantage of the project's solid resource potential to propel its growth.
BML shares traded at A$0.40 on 17 June 2021.